Pixel5
Pixel5 offers web design and development, based in Cambridge, UK.
CONTINUE READING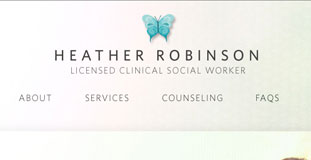 Heather Robinson
A beautifully designed website with excellent use of colors and texture. Heather Robinson is a Licensed Clinical Social Worker (LCSW), she provide counseling to adults, children, individuals, families and couples
CONTINUE READING
FesTiki
Surf Ohio FesTiki 2010 is the annual celebration of classic surf, tiki and hot rod culture in Dayton, Ohio. The design features a unique color scheme that has a washed out look. with retro looking typography.
CONTINUE READING